---
Spring: Claim Your Best Self provides affirmations and tools to help you harness the transformative energy of the season!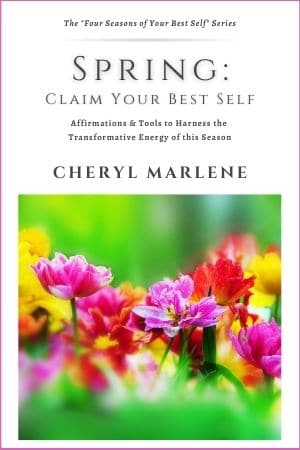 ---
This is a Spring like no other!
How can you be your Best Self this Spring?
The quick answer: CLAIM your Best Self!
The meaningful answer: Use the empowerment of affirmation and spiritual tools to harness the transformation of Spring.
The real answer: take a moment to acknowledge your truth and claim who you are and can become.
Spring: Claim Your Best Self provides the quick, the meaningful, and the real so you can transform You-of-the-past-year into your Best Self now.
---
The Claim of Spring as Journey for Your Best Self
This book has thirteen weeks of support to help you move through Spring with clarity and empowered choice.
Along the way you release what doesn't serve and embrace new perspectives and new ways of claiming your Best Self.
As Spring begins, you will also learn how the energy of Spring fuels personal transformation.
There are questions to ask yourself (or the Akashic Records) to uncover what is holding you back and how you can move forward.
This is not a huge time commitment – maybe ten minutes a day.
Find clear directions and thoughtful prompts to fuel your ability to make this the Spring of your Best Self!
Time to act!
Spring: Claim Your Best Self!
---
Here's this article -- My Best Self: A Declaration and a Commitment
---
Here's what is included:
In this book, Spring: Claim Your Best Self, find a transformative journey into the energy of Spring.
Begin with a set of questions to ask yourself (or the Akashic Records) to move consciously into the energy of Spring.
Then, for each of the thirteen weeks of Spring, are these elements to support your reflection, interaction, and learning.
Weekly Affirmation: one sentence to change your life. The empowering motion of Affirmations come in daily repetition.

Mindful Moment: a short narrative of the energy contained in the week's affirmation.

Spark Notes: writing prompts to spark your work, contemplation, and reflection.

Weekly Quote: a line of thought to reinforce the week's learning.
---
Get a free copy of Spring: Claim Your Best Self!
To receive a free digital copy of the ebook, please complete this form.
There are a couple of formats that I can send you.
First, you can get all the goodness with both ebooks and weekly email. Indicate which hemisphere you live in and I'll make sure you get the right season.
Within this choice, I'll send the current season's ebook and get you set up within the flow of email for the season. When a new season approaches, you'll get the new ebook and flow into the email for that season until you have passed through four seasons and a year. You can unsubscribe any time. Emails are delivered Monday.
Second: the other way is just to pick the ebooks only, either all the seasons or whatever season you want.
Also know: I have a special Akashic Record Reading Package for Four Seasons of Your Best Self. Learn more here!