Eager to understand you and your life?
Ready to open your heart and mind to move beyond?
Make now the moment for clear insight to prepare you today for all your tomorrows!
Hello! I am Cheryl Marlene.
I am a mystic, a futurist, and a trailblazer in the Akashic Records. I'm really good at getting to the real, the raw, and the tough parts of life. I'm also really good at explaining what seems complex and difficult in easy-to-understand concepts without losing either the depth or the authenticity of the challenge or the joy.
Here's how to connect with me either through one-on-one sessions, becoming a student, or exploring your life's journey:
What are the Akashic Records?
Not a book. Not a library. Not a thing.
The Akashic Records are the energy of your soul with ready responses to help you release fear, solve challenge, and understand who you are and why you are here.
For you, here, now, the Akashic Records are:
A trustworthy source of answers to your questions
A place to let go of whatever limitations or blocks are ready to go
A safe, sacred space to heal and find balance
A process of soul-oriented spiritual study
An intentional experience of connecting with the transcendency of life
A connection with the universal mysteries, the roots of ancient wisdom — both as the foundation for future exploration
A spiritual practice of personal power
The Benefits of Understanding the Akashic Records
The Akashic Records help you understand your life beyond the everyday into the integrated power of your body, mind, heart, and soul.
The Akashic Records help you heal the hurt and harm.
The Akashic Records open your heart and mind to our amazing universe.
Connecting with Cheryl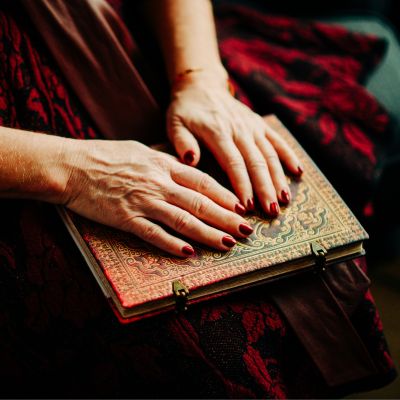 One-on-One Akashic Record Reading
An Akashic Record Reading is opportunity to get questions answered, examine your life, and let go of whatever is no longer you.
Conducted one-on-one via Zoom, an Akashic Record Reading session with me is based on your questions and any issues you want to raise.
A Reading will get to what you want to know and help you let go of whatever needs to go.
I will use the energy of your Akashic Records to help you release trauma and hurt, jettison bad habits, and heal your body, mind, heart, and soul.
Not sure what or how to ask? I got plenty of Question Suggestions for you!
---
Learn to Open the Akashic Records
After a Reading, the next step in your journey is to learn to open the Akashic Records for yourself!
While this is something most anyone can learn to do, the biggest hurdle for most folks is trust.
Everything I provide in my learning program is to support you developing this trust and exploring the deepest roads of the Akashic Records.
My learning programs include direct contact and work with me
There are books, videos, and audios as supplements to power your learning, and …
You always have a way to get your questions answered directly by me.
For Students looking for Something more:
There's my four-level learning program, ZENITH — comprehensive, intensive, transformative, and universal.
---
Explore Your Spiritual Journey
Here's my get-started suggestion: Subscribe to my newsletter —
Spiritual Deep Dive:
When you're ready to go beyond the surface of your life — words of wisdom for body, mind, heart, and soul!
Between all my books, blog, YouTube channel, events, and Spiritual Deep Dive, I have many options for you to learn more about your spiritual journey, the Akashic Records, and the world we all share!
What Folks Are Saying!
Cheryl Marlene is the world's leading teacher, author, and thought leader on the Akashic Records. .
A reading with her was transformative; her courses changed my understanding of possibility.
If you're ready to deep dive into the Records and want to be challenged, supported, and educated, choose this path.
She's the best at what she does, at truly every level.
— Liz, Massachusetts
I am grateful that I have had Cheryl in my life for the past 2 years.
Her energy and insight have been a positive influence for me during some dark times.
She has helped me to focus on finding the light in every situation, believing in my own capabilities and has been a source of positive energy at a much needed time in my life.
I look forward to learning more from her each time we interact and feel blessed that our paths have crossed.
I would highly recommend that anyone spend some time with her and it won't take long to determine just how much of a positive influence she is and that she practices what she teaches.
— Jim, Arizona
I am re-watching the first lesson in our Level Three course and this thought just came to me and I want to share it with you:
You hold the keys to the Universe and I want to thank you for unlocking these doors for me.
Before you, I didn't even know these doors existed.
Now, as I step through these doors, the potential of my Universe is unfolding and I am full of wonder, awe, and happiness!
— Stephanie, Ohio
Welcome! I am Cheryl Marlene,
Mystic, Futurist, and Trailblazer in the Akashic Records
I am passionate about supporting you in your journey to find clarity and feel confident about who you are and who you can become.
For over 25 years, it's been my honor and joy to act as guide and witness as others find their path and let go of the blocks we all stumble across.
I have the superpower to see possibility beyond the horizon of most people's span of awareness.
I can put this vision into words which are easy to understand but don't diminish the depth.
Plus, I am somewhat a contrarian because often what comes challenges typical notions.
The benefit is this creates the space you need to let go of whatever stands in your way.
This also means I am really good with two groups of people.
One: If you feel you are just beginning to do your work and figure out your path, I've got you!
I've been there and the simplicity I bring will get you going with clarity and an open heart.
Two: If you've already begun and you feel in your heart there's more — there is a deeper path possible, the depth I provide will answer this calling for you.
Wherever you are on your journey, I can hold space for you to find and create the vision of tomorrow's path today.
If you have something you want to know or to let go, I suggest you begin with an Akashic Record Reading.
If you feel ready to step into the Akashic Records, I suggest you explore studying with me.
Whatever your choice, may your life be filled with joy and love!
Eager to understand you and your life?
Ready to open your heart and mind to move beyond?